Security Cameras for Farms and Agriculture
Farm security cameras are extremely important for large-scale farmers. A modern security camera system is useful in homes and businesses to both discourage crime and catch criminals in the act. Security cameras in a farm setting serve this purpose, but are also useful for day-to-day operations. Aside from monitoring for theft, a farm security system can help you know who has visited to your farm and when they arrive and leave. Simply knowing when the feed truck arrives and which bin it fills can be really helpful!
Jason Jackson is a poultry farmer in Alabama who helps us make great educational videos with his real-world knowledge. Check out our video below to get his professional advice on farm security cameras and get ready to say...
Smile, you're on camera!
Why Have a Farm Security Camera System?
Farm security cameras make sure that you, your team and your birds are always well-protected in and around your houses. Of course you want to keep your birds, assets and farm safe from unauthorized or threatening activity. A farm security camera system can certainly help with this by being a constant source of monitoring suspicious activity. It could even serve as evidence should someone commit a crime on your property. However, we think farm security cameras have an even bigger benefit: A monitoring device that lets you know who came to your farm, how long they were there and what they did there.
What's the Best Security Camera System for your Farm?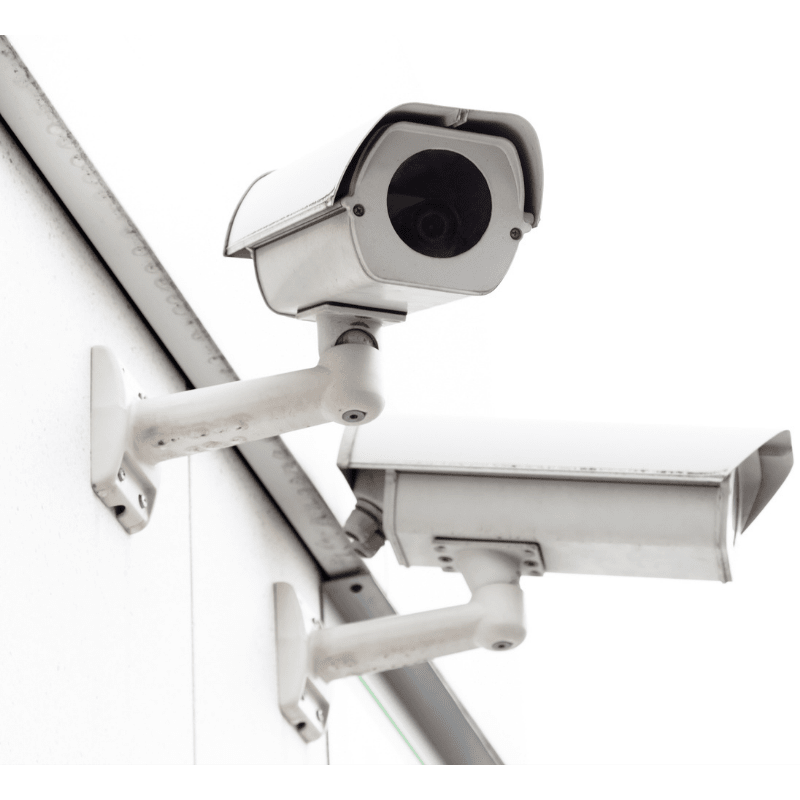 Farm security cameras can monitor your property 24/7 and alert you if there is any suspicious activity detected. Having a security camera to identify an intruder can be extremely helpful in fully stopping a criminal from stealing from your farm. Farm security cameras are not all alike, however. There are wireless farm security cameras and those that require wiring, some that use DVR and some that use cloud storage as well as some that have features like night vision, motion detection, remote access and even real time alerts. It's important to define your goals before buying a security camera for your farm. 
IP Security Cameras
You may have heard of popular security camera brands like Arlo and Ring, which send video when activity occurs near the camera. IP security cameras take this a step further. IP stands for Internet Protocol. This means IP security cameras receive and send video footage through an IP network. Some can even record audio or allow you speak through them to whomever is around the camera. These are often used as a surveillance security camera system, but they're best for when you only need one or two spots monitored constantly.
Usually, farms have several areas on site that need monitoring, and one security camera just won't cut it. Some farms have as many as 10 places that need to be included in the security camera monitoring!
Wired Security Cameras
While many folks are going wireless these days, wired security cameras definitely have some perks. This type of security system sends video to DVR to be viewed by you when you choose. It can be accessible online in some cases, but one of the major benefits of this type of security camera for farmers is that it doesn't require internet. Many of these security camera systems save video feed constantly.
Some folks in rural areas have trouble getting wifi or service of any kind out on their farms. For some, even having the best security camera system isn't worth the hassle of setting up internet on their farms. If that sounds like you, then a wired security camera may be the right choice for your farm operations.
Wireless Security Cameras
But if you're not too daunted by the higher tech, wireless farm security cameras are a great choice.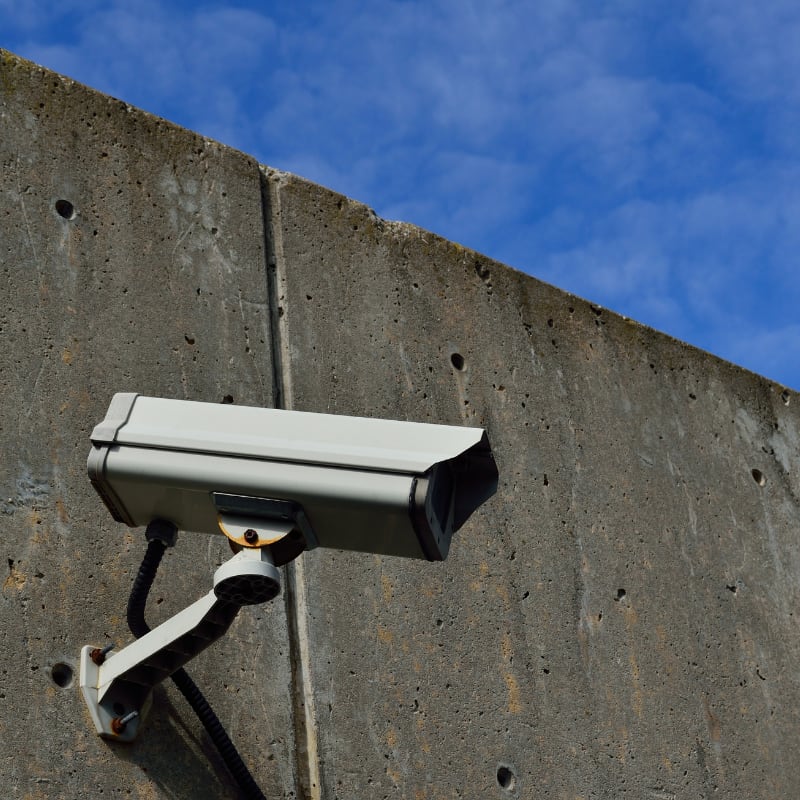 These security camera systems allow you to monitor farm security from your phone at any time. If you have a security system like this, you need internet of some sort on your farm. These security cameras are usually battery-powered and store video on a cloud storage system. Some of this video surveillance technology even has night vision and motion detection.
You can download an app on your phone to access the farm security camera, or more likely cameras, to check on your farm and see who came and went that day or even a few days before.
No Wifi? No problem!
If you don't already have wifi on your farm, wireless security camera systems with remote viewing are not out of reach for your farm security measures. Our friend Jason Jackson recommends buying a wifi hotspot to connect your wireless farm security camera. Many of these smart devices can be added on to your normal phone plan for $20 per month or so. You can even find them on sites like eBay! They just need a SIM card with data.
If you're someone who wants security technology that can be monitored and managed from your phone, adding a wifi hotspot to your farm is a fairly inexpensive way to greatly enhance your security systems. They're way less expensive than they used to be, and are typically cheaper than many monthly monitoring security systems.
Game Security Cameras
Some farm owners have had success using a game camera system, normally used to track animal behavior, to prevent theft. This surveillance footage has great night vision and works in remote locations without internet connection. They operate through an SD card, which means you have to open the cameras to access the footage. Some have subscriptions that will send footage to your phone. They usually just need a weak cell signal, but they can get very expensive. If you just have 1-2 places to monitor, game cameras can be an easy and reliable option with especially great night vision.
According to Jason Jackson, the ability to record 24/7 in the locations you need is the most important aspect of farm or ranch security cameras. Determine your priorities for a security system before you buy. Do you need night vision, motion sensors, a really clear picture or a high number of cameras? We're certain of one thing- to purchase agriculture camera systems in a no-brainer.
Where to get a Farm Security System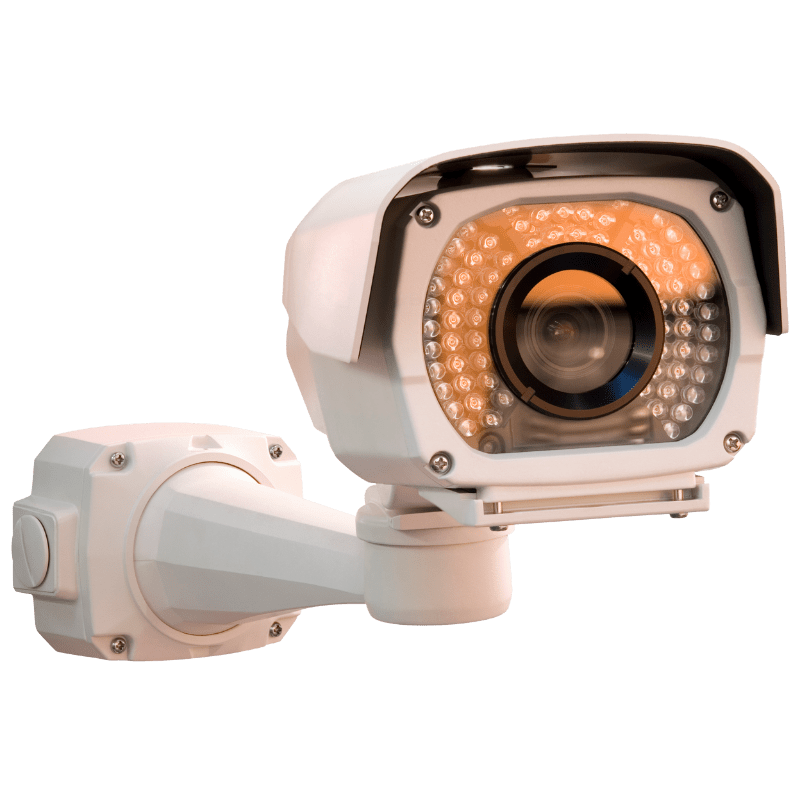 Farm and ranch security cameras aren't too hard to find. You can shop for them at stores like Best Buy, Home Depot, Walmart and Bass Pro Shop. There are also a plethora of cameras available to buy online, from their own websites and even on sites like eBay. It's easy to find a security camera because there are a lot out there, but make sure to consider the elements we've discussed here before you make your final decision. 
Weighing the Cost
Farm surveillance cameras can be expensive, but there are several relatively inexpensive options like the wifi hotspot we discussed. Jason is confident in his investment in his security camera system, as a means of preventing thieves but most of all to monitor his property. The cost of farm theft is certainly more than the price of a camera system, and the comfort of being able to know who is on your farm and when is more valuable than both combined.
Contact Us
If you have any questions about this video or suggestions for future Poultry Biosecurity topics, contact allen@southlandorganics.com or jason@southlandorganics.com. Check out our YouTube channel for more helpful videos on commercial poultry farming!