Alpet D2 Surface Sanitizing Wipes
Size
1 Canister
Case of 6
Wipe Count
160 Count
90 Count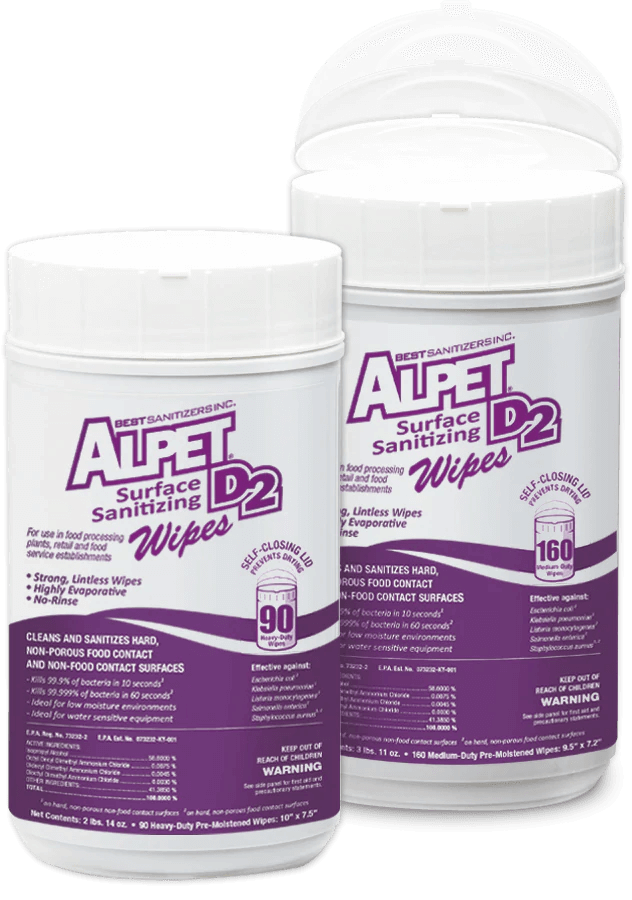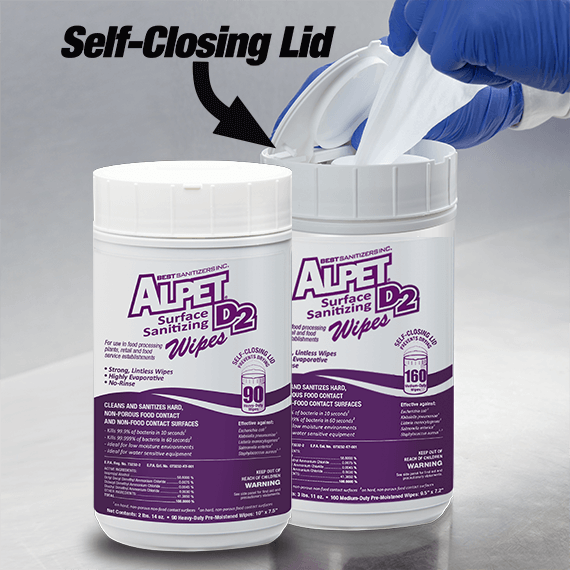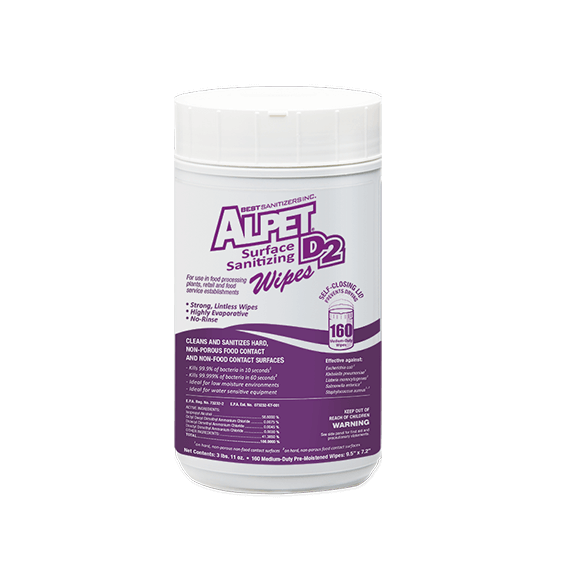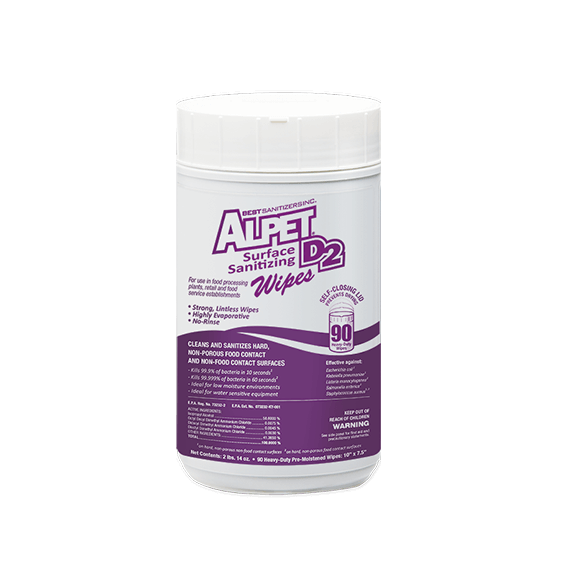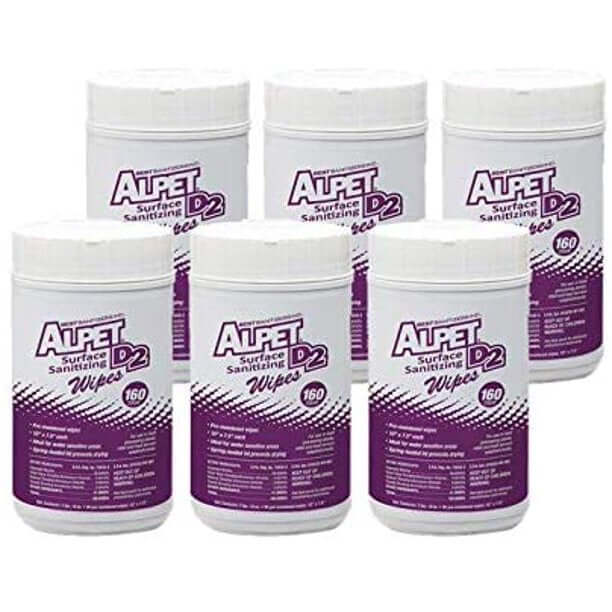 Application Rates
More Details
Documents
Alpet D2 Surface Sanitizing Wipes: Secret Ingredients
FAQs
Sanitizing with Alpet D2 wipes is as simple as "wipe and walk away!" Just wipe the area you want sanitized, then wait 10 seconds for non-food contact surfaces and 60 seconds for food contact surfaces.
Alpet D2 Surface Sanitizing Wipes are a no-rinse, lintless wiping system for food contact surfaces and non-food contact surfaces. These ready-to-use wipes are available in a 90-count and a 160-count wipe canister, and the spring-loaded lid closes on its own to prevent the drying of wipes, helping to eliminate unnecessary waste.
Alpet D2 wipes are comprised of a 58% IPA/quat formula.
Who manufactures Alpet D2?
Alpet D2 products are manufactured by Best Sanitizers. Best Sanitizers is a chemical manufacturer based in California with a production facility in Kentucky. Southland Organics is an established stocking distributor for Best Sanitizers.
Do I need to wear gloves when applying this product to surfaces?
Alpet D2 Surface Sanitizing Wipes do not require gloves to be worn when sanitizing high touch, hard, non-porous surfaces. If you have sensitive skin, you may want to consider wearing gloves simply as a precaution. Additional information about allergens and active ingredients are included in the precautionary statements below.
What harsh chemicals are listed in this product?
Alpet D2 Surface Sanitizing Wipes include ingredients that can be corrosive and irritate the body if contacted in excess directly with the mouth, eyes or nose. Rinse with water if contact occurs.
The formula does not contain any known allergens such as soy, almond oil, tree oil or peanut components. See the Safety Data Sheet for additional information.
What steps should I take if this product gets in my mouth or eyes?
Contact to sensitive parts of the body may result in a stinging feeling or slight irritation. This irritation is treatable. If contact has been made with your eyes, gently rinse your eyes with water as soon as possible. It may take 15 to 20 minutes to recover. If inhaled or swallowed, get some fresh air and breathe slowly.
If conditions still persist, call your doctor for medical attention.
What is the difference between disinfecting and sanitizing wipes?
Sanitization removes bacterial particles using chemical substances and fights against viruses. Alpet D2 is an EPA-approved product with powerful efficacy and response time for eliminating strep, norovirus and listeria. Disinfecting with chemicals means it will completely eliminate contaminants from surfaces.
Do Alpet D2 wipes kill 99.9% of viruses and bacteria including cold flu?
Yes, these wipes quickly sanitize 99.9% of tested pathogens in 10 seconds. Active ingredients work together on equipment and other surfaces for fast disinfection. Within 60 seconds, the disinfectant will kill 99.999% of bacteria, including cold, flu and strep.