Alpet D2 Quat-Free Surface Sanitizer Spray
Size
CASE: 12 x 1 Quart, 12 sprayers
1 Quart, 1 sprayer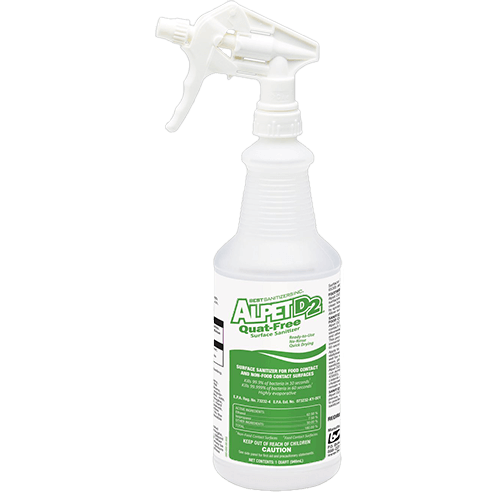 Application Rates
More Details
Documents
Alpet D2 Quat-Free Surface Sanitizer Spray: Secret Ingredients
FAQs
Alpet D2 Quat-Free Surface Sanitizer Spray is a fast-acting, food contact and non-food contact surface cleaner and sanitizer. Specially designed for processors that can't use quat-based chemical formulas, the sanitizer spray is highly evaporative and ideal for both water-sensitive equipment and dry environments.
Additional benefits include:
Ready to use
No rinse
No unsightly residue
Qualifications:
NSF listed and EPA registered
Kosher, pareve, and halal certified
Manufactured by Best Sanitizers, Inc.
This effective sanitizer is comprised of a 70% alcohol formula (62.5% ethanol / 7.5% isopropanol).
What is a quat-free surface cleaner and sanitizer?
A quat-free sanitizer is made up of alcohol components instead of the alternative solution that includes quaternary ammonium chloride. The main difference between a quat spray and quat-free solution is the residue left behind.
After Alpet D2 Quat-Free Sanitizer is sprayed on a surface, the solution will evaporate quickly. A quat-free sanitization product will not leave unsightly residue on the surface.
Is a quat sanitizer safe?
Both quat-free sanitizers and quat sanitizers are safe to use. However, there are differences in each solution and their acceptable locations of use. A quat sanitizer is composed of stronger active ingredients in order to kill a broader range of microbes.
Where can I use Alpet D2 Quat-Free Surface Sanitizer Spray?
Alpet D2 Quat-Free Surface Sanitizer Spray is safe and ready to use on most surfaces. The highly evaporative formula will eliminate up to 99.999% of bacteria on the surface area within 60 seconds.
This must-have kitchen spray helps you make a safer food environment for your customers and also protects the health of your employees. Alpet D2 Quat-Free Surface Sanitizer Spray can be used to sanitize or disinfect many surfaces commonly found in kitchens, including:
Glasses and dishes
Utensils and cutting boards
Counters
Refrigerator doors and shelves
Cabinet exteriors—both cleanable and porcelain enamel surfaces
Rubber mats (not flooring)
Trash receptacles, bins, liners and lids
Backflow prevention devices on hoses
Exterior of ice machines
Who manufactures Alpet D2?
Alpet D2 Quat-Free Surface Sanitizer Spray is manufactured by Best Sanitizers. Best Sanitizers is a chemical manufacturer based in California with a production facility in Kentucky. Southland Organics is an established stocking distributor for Best.