The great news is that you can still achieve the benefits of conventional programs without the use of harmful chemicals through humic acid based lawn care.
Here at Southland Organics, we provide natural solutions to natural problems in lawn and garden care. One natural problem that the impact-conscious homeowner regularly faces is how to grow a beautiful, lush lawn without harming the environment or endangering their family and pets. Our solution? Humic acid for lawns.
What is humic acid?
Humic acid, also known as humate or fulvic acid, is organic matter that makes up humus, the main organic fraction of soil. General benefits of humic acids include improving water holding capacity and nutrient retention, adding nutrient value to all soil types including clay and sandy soils, stimulating root growth, improving plant growth, boosting seed germination, improving soil structure and having a lower cost than other conventional soil products. 
The best part? Humic acid lawn products are safe for people, pets and the planet. They don't produce harmful runoff or add unsafe chemicals to your lawn. Kids and pets can play on lawns treated with humic acid products, even if they've just been sprayed.
Our Lawn Care Bundles
Because of the benefits of humic acid for lawns and the peace of mind it provides to users, we developed a simple lawn care program that includes four humate-based products: Genesis, Omega, FertALive and Revival.
These are all liquid humic acid products rather than granular humic acid products, and they're designed to be diluted and sprayed on your lawn at different points in the growing season.
We know that everyone's lawn is different, so our program is customized by your turf zone and lawn size. Your turf zone is determined by where in the country you live and impacts the months in which you should apply lawn care products. Your lawn size is an approximate square footage that helps us determine the amount of product you need.
Take our quick and easy quiz to find the right program for your lawn! At the end of the quiz, we'll tell you which lawn bundle is right for you. Add that bundle to your cart, and we'll send you exactly what you need for the entire growing season.
Step 1: Genesis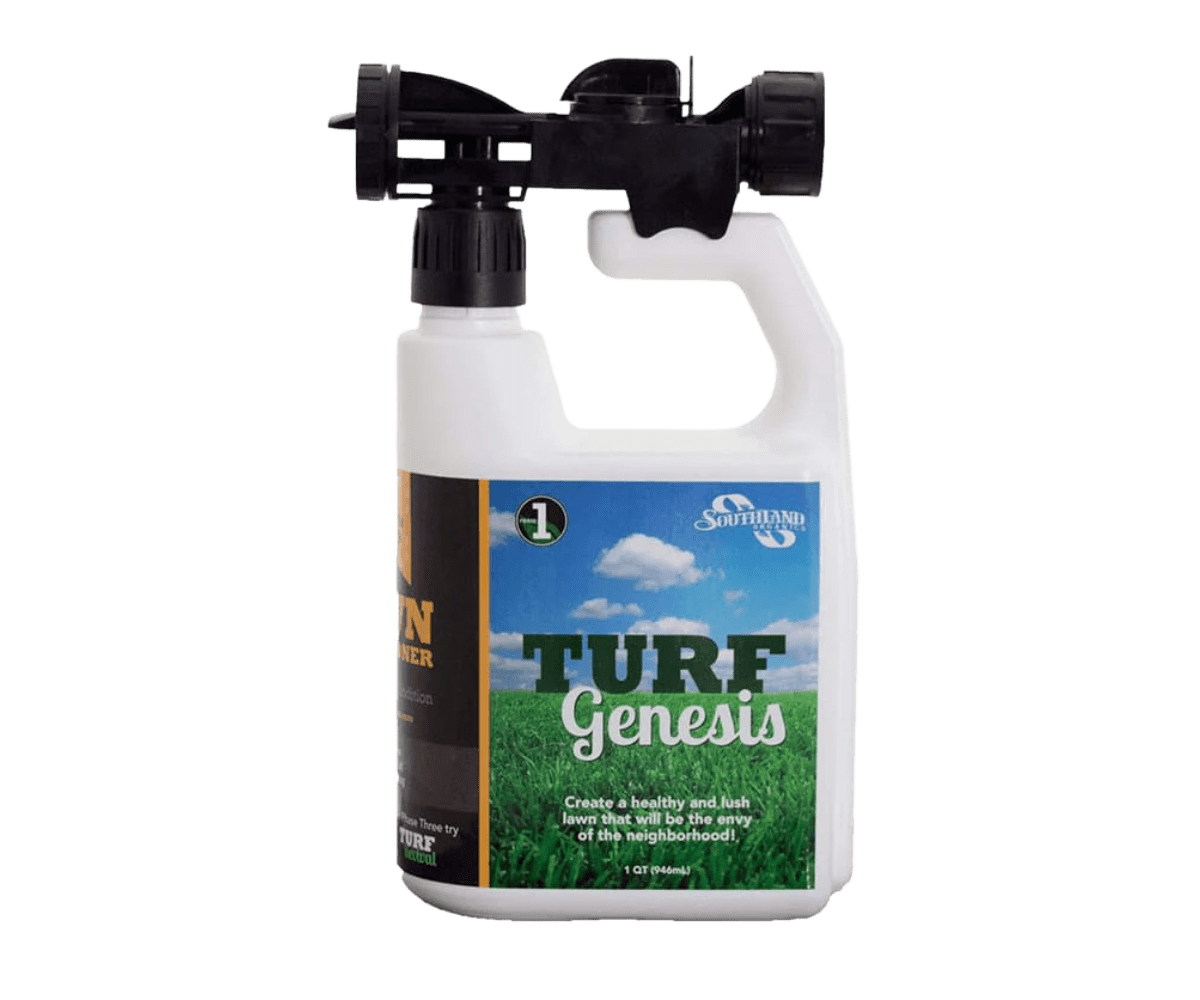 The first step is to apply Genesis, our humic acid soil conditioner. It uses beneficial biology, organic acids and carbon to accelerate green-up and is scientifically proven to increase germination rate, soil quality and plant mass.
The biostimulants in Genesis accelerate root growth through oxygenation, chelate soil nutrients to make them accessible to the plant, combat negative fungal growth, aerate compacted soil and work to unlock previous fertilizer applications. 
Application Rate
Genesis is applied in the spring to prepare your lawn for the hot summer by adding activated carbon and rich microbiology.
Apply 10–12 oz. of Genesis per thousand square feet in a sprayer, diluted at a 1:20 product to water ratio. 
Step 2: Omega + FertALive
The second step includes two products: Omega and FertALive.
In addition to its humate base, Omega includes a proprietary blend of beneficial bacteria that promotes nutrient uptake and builds grass that is resilient to disease and environmental stress. This helps lawns thrive throughout the summer heat.
FertALive is a powerful and effective humic acid lawn fertilizer. It is enhanced by Chilean nitrate, PSBs (phosphorus solubilizing bacteria), KSBs (potassium solubilizing bacteria) and liquid carbon. The PSBs and KSBs help release phosphorus and potassium that are already present in the soil, reducing the need for additional inputs. This stable and organic liquid humic concentrate provides a reliable source of nutrients, enhances conventional fertility programs and helps lawns meet their full quality potential. And if you have a garden or potted plants, FertALive will help them thrive too!
Application Rates
While you don't have to worry about applying too much humic acid to your lawn, we recommend the following application rates for Omega and FertALive. These products are applied together because they complement one another.
Apply 6–8 oz. of Omega per thousand square feet, diluted at a 1:20 product to water ratio. Apply 8 oz. of FertALive per thousand square feet, diluted at a 1:30 product to water ratio.
Step 3: Revival
Once your grass has had a long summer in the sun, it needs to be revived during the fall. That's why the product applied in our third step is called Revival.
Revival is the ultimate microbial dethatcher, liquid aerator and compost accelerant. The blend of biologically active, organic carbon, organic acids and beneficial microbes revives turf to healthy and lush conditions at the end of the season. 
Application Rate
Apply 5–7 oz. of Revival per thousand square feet, diluted at a 1:20 product to water ratio.  
Green Grass Rooted in Healthy Soil
Organic lawns are typically much safer for people, pets and the planet than lawns treated with synthetic chemicals. Humic acid is a great, natural option to grow a beautiful lawn without worrying about harming those who use the lawn—or the environment.
The key to a beautiful lawn is healthy soil. Healthy soil means healthy grass that is less susceptible to disease and weeds and, most importantly, beautiful and green. At Southland Organics, we treat the root of the problem by building healthy soil through products that are based on humic acids.
Contact Us
If you have any questions, email us at success@southlandorganics.com or give us a call at 800-608-3755. Be sure to follow us @SouthlandOrganics on your favorite social media platforms to stay in the know and get tips on natural lawn, garden and coop care.
About the Author
This blog was written by Izy Dobbins, Southland Organics' Marketing Manager. Izy has devoted her education and career to communicating science-related topics. With an enthusiasm for sharing accurate and honest content relating to science and agriculture, she ensures Southland Organics' publications are as informative as they are interesting. Izy graduated from the University of Georgia with a bachelor's degree in advertising, minors in both Spanish and environmental health science and a Certificate in Sustainability. She has been working at Southland Organics since 2021. Learn more about Izy here.
This blog was edited by Erin Flowers. As a writer and editor, Erin keeps a close eye on the details. Erin thoroughly researches each topic, fact checking and source searching to give our readers helpful resources for raising chickens, homesteading, and growing lawns and gardens. Erin graduated from the University of Georgia with a bachelor's degree in advertising. She began working with Southland Organics in 2018. Learn more about Erin here.